The Company
 
Calypso Realty handles all areas of real estate transactions from sales of residential homes, home sites, condos and businesses to commercial sales and leaseholds, and the recommendations for leasing of residential properties long term and vacation homes.
Completing the full spectrum of real estate, Sharon has listed and sold many businesses from boutiques to restaurants and bars and leasehold build-outs and improvements. From American Yacht Harbor and Secret Harbour in the east to bustling Havensight to high end downtown Charlotte Amalie and restaurant leaseholds in Frenchtown, Sharon has brokered many successful leasehold transactions.
After 18 years in our original location at the corner of Havensight Way, Calypso Realty's offices moved just one building away to terrific new space in November 2013. We are still conveniently located in Havensight now on the top floor of the building at #3 Havensight Way, just about 500 yards east of the Havensight Mall entrance.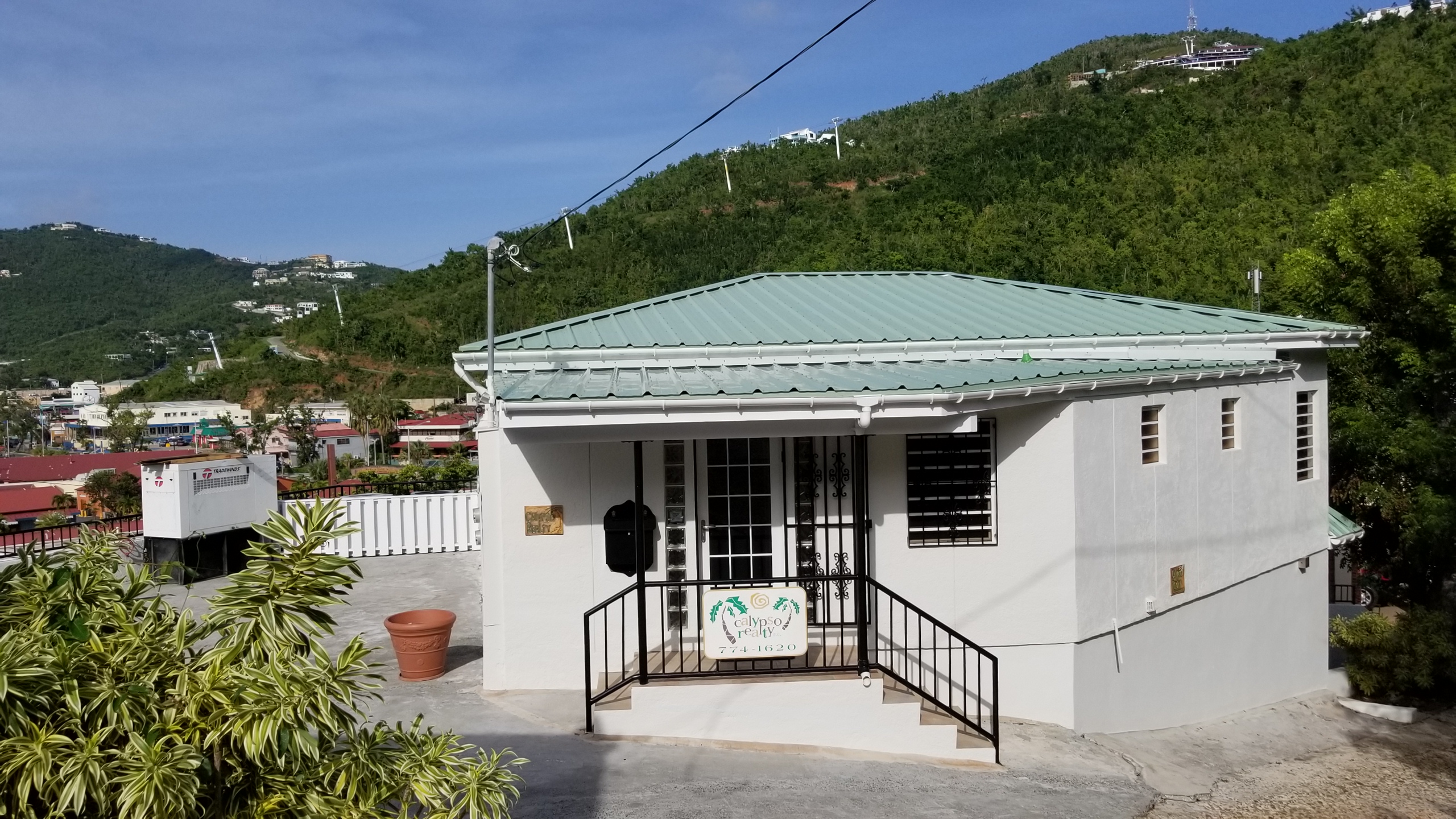 Just look for the sign at the corner of Havensight Way and drive on up. We are the second building on the right, top floor, in the attractive two story gray building with a light green hip roof. We have lots of parking right at the front door and we would love you to visit us! We have all the latest equipment along with a charming setting allowing us to work efficiently and effectively for you.
Over the years Sharon has assisted a local and international clientele, private and public sector, corporate and personal, in the exploration, leasing, listing and purchasing of Virgin Islands properties. Corporate clients include Trammell Crow, Esso, AT&T, Heery International, Southern Energy, Cellular One, Sun Glass Hut, Metro Elevator, Cross Country Staffing, Professional Nursing Service, Focus Staffing, Medical Consulting Services, Cape Air, Marriott, Innovative Communications, Daily News, Federal Government and the USVI Government. And for many years Sharon has assisted several U.S. companies interested in establishing new VI companies under the U.S. Virgin Islands EDA program:http://www.usvieda.org . Calypso Realty is an Eligible Supplier of services under the USVI EDA program. Beginning with the initial introduction to the island to the leasing of office space and purchases of condos and homes, we are a full service real estate company. Once you are Sharon's client you will have full access to all the 'insider' secrets of the VI, from where to find the best produce and fresh fish to electricians, plumbers, contractors, cleaning professionals, restaurant recommendations just about anything to ease you in to island life! Call Sharon and discuss your real estate questions. She is ready for you!