The Company
 
Calypso Realty handles the full spectrum of real estate transactions from sales of residential homes, home sites, condos and businesses to commercial sales and leaseholds, and the leasing of properties long term and short-term vacation homes.
We currently have 28 properties in the long-term property & rental management division and 4 unique properties in the vacation property & rental management division. We enjoy an excellent reputation with our owners, tenants, guests, sub-contractors. We maintain properties for off-island owners in a cost-effective and competent manner with excellent attention to detail. We handle everything from minor maintenance and repairs to large-scale construction and renovation of properties. We replenish and re-supply inventory as needed and in concert with our owners and tenants. We do not accept properties in poor condition, however, we will work with and assist owners in bringing their property up to a very good standard to optimize the rental potential and to obtain a quality tenant in our competitive rental market.
Completing the full spectrum of real estate, Sharon has listed and sold many businesses from boutiques to restaurants and bars and leasehold build-outs and improvements. From American Yacht Harbor and Secret Harbour in the east to high end downtown Charlotte Amalie and restaurant leaseholds in Frenchtown, Sharon has brokered many successful leasehold transactions.
The vacation rental business has grown from a few simple condos to four unique properties including beach condos and a luxurious 3 bedroom, 4 1/2 bath very private beachfront villa . This part of the business has provided many potential purchasers their "first look" at living on a tropical island. Our advertising tag line is … "Island-style living…for a week or a lifetime" and many people take it literally and purchase a primary residence or second home with us at Calypso Realty!
After 18 years in our original location at the corner of Havensight Way, Calypso Realty's offices moved to terrific new space in November 2013. We are still conveniently located in Havensight now on the top floor of the AMI building at #3 Havensight Way, just about 500 yards east of the Havensight Mall entrance.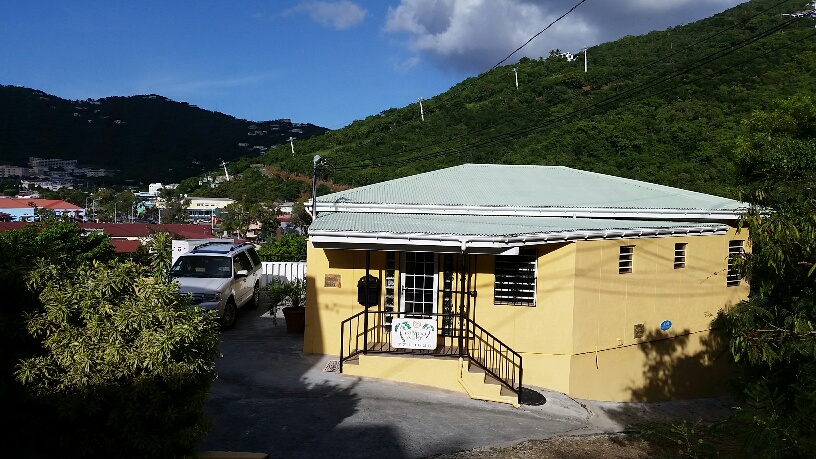 Just look for the sign at the corner of Havensight Way and drive on up. We are the second building on the right, top floor, in the attractive two story yellow building with a light green hip roof. We have lots of parking right at our front door and we would love you to visit us! We have all the latest equipment along with a charming setting allowing us to work efficiently and effectively for you.
Over the years Sharon has assisted a local and international clientele, private and public sector, corporate and personal, in the exploration, leasing, listing and purchasing of Virgin Islands properties. Corporate clients include Trammell Crow, Esso, AT&T, Heery International, Southern Energy, Cellular One, Sun Glass Hut, Metro Elevator, Cross Country Staffing, Professional Nursing Service, Focus Staffing, Medical Consulting Services, Cape Air, Marriott, Innovative Communications, Daily News, Federal Government and the USVI Government. And for many years Sharon has assisted several U.S. companies interested in establishing new VI companies under the U.S. Virgin Islands EDA program:http://www.usvieda.org . Calypso Realty is an Eligible Supplier of services under the EDA program. Beginning with the initial introduction to the island to the leasing of office space and purchases of condos and homes, we are a full service real estate company.